Watchdog¶
Watchdog is the basic tool for the administrator of a local network or Internet access. By sending an ICMP packet (ping) to the set address, it makes sure that the device responds and, if necessary, it can reset the power supply of eg the client device. Therefore, it can also be used at home or in the company, for resetting especially radio devices or modems operating on long cables, more susceptible to interference.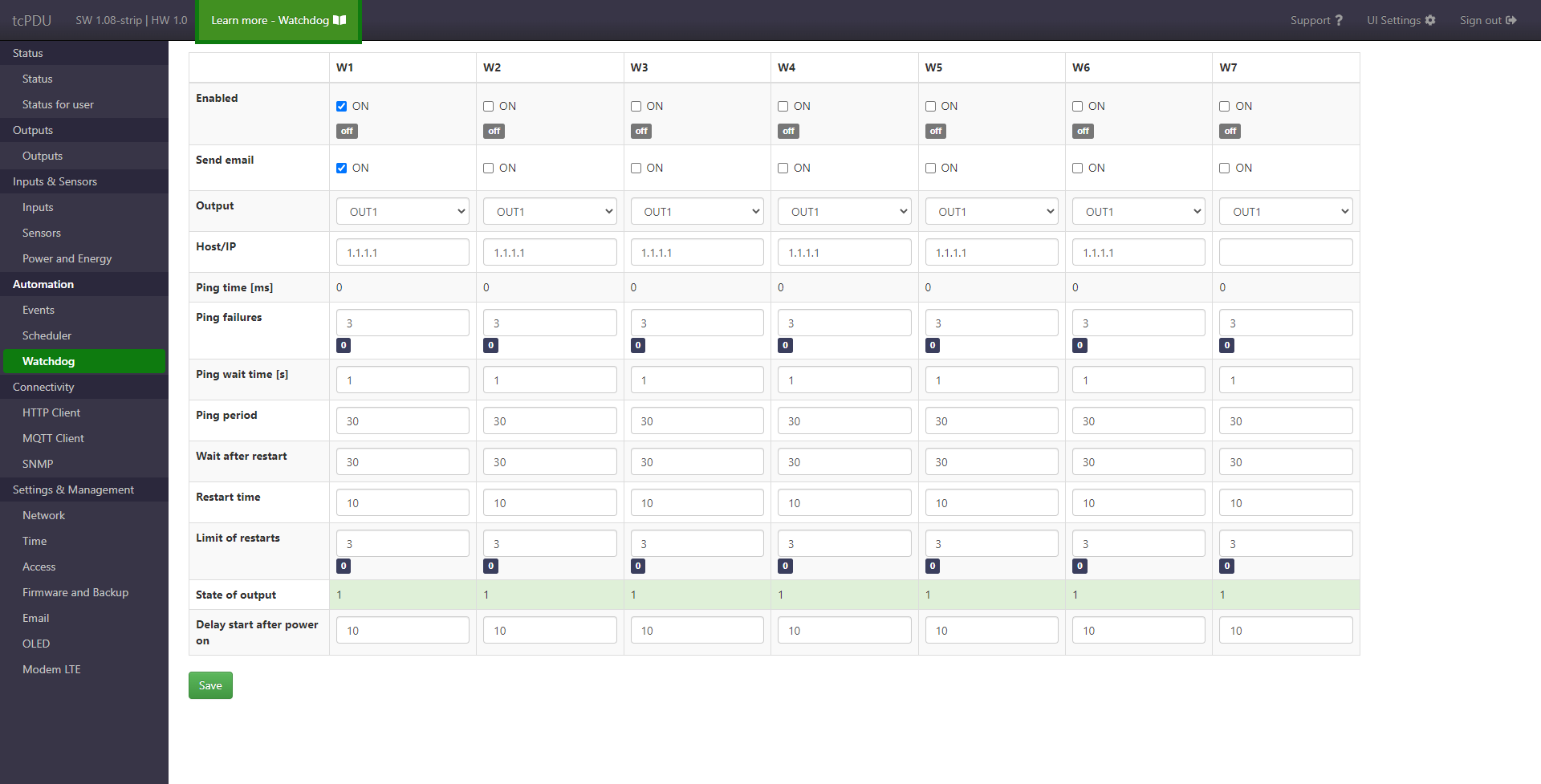 Elements of page¶
Table with watchdog function parameters to be set and read. Subsequent function entries are grouped by columns, i.e. the parameters of the first entry in the W1 column, the second entry in the W2 column, etc.
For each entry, the following lines contain the following parameters:
Enabling the function and its current status.
Sending an email about watchdog operation (if an email service has been set up).
The output, used for the restart procedure (OUT, VAR).
The hostname or IP address of the device with which the connection is to be checked (in the case of individual customers, it is best to set the device address on the operator's side or, for example, its DNS).
Response time, in the absence of response it will show the message Timed out (in a low latency local network can show 0).
Limit of missing responses, resulting in restart of the output, and the current number of missing responses.
The maximum waiting time for a response in seconds.
Ping period (check if the address is reachable).
The time (in seconds) to elapse before starting ping after the restart of the output (set to wait for the full start of the monitored/restarted device).
The time (in seconds) for which the device is disconnected (remember that the power supplies of very low-power devices can maintain power for several seconds).
The limit of restarts, which when achieved will disable the watchdog.
Current state of the associated output.
Delay in enabling the function after starting the tcPDU.
Any changes in the configuration of the watchdog require pressing the Save button.
---
Last update: 2023-08-07